Chip & Pin
Get your PIN and use your card safely!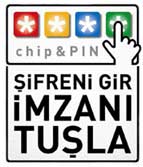 You will be required to enter your PIN when you shop with Passolig Debit Card. To get your PASSOLIG Debit Card PIN , you can call 0850 724 33 44 PASSOLIG Call Center.
You can change your PIN at Passolig Internet Branch, 0850 724 33 44 Passolig Call Center and at any ATM.
You can use your Passolig Debit Card abroad where Chip&Pin is used.
Do not forget to call 0850 724 33 44 in case of forgotten PINs, lost/stolen cards or you learn of false transactions made.